Oregon State Beavers at Washington State Cougars
· NCAA - Football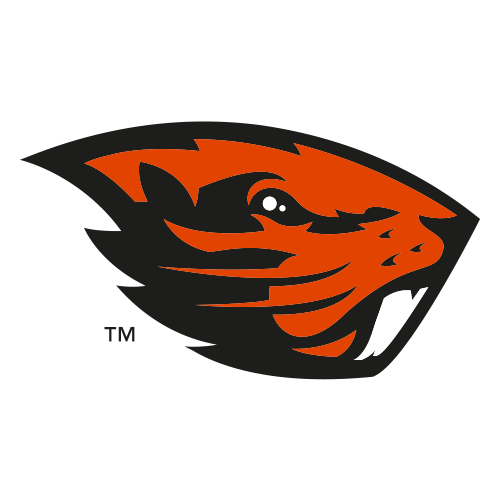 3-1, 1-1 Away

4-0, 3-0 Home
Pac-2 Champs? No. 21 Washington State tops No. 14 Oregon State 38-35
In a game billed as the Pac-2 championship on the Palouse, the Cougars pulled out their second victory of the season over an AP Top 25 foe. They led by 17 points early in the fourth quarter before the Beavers (3-1, 0-1 Pac-12) mounted a furious rally.
Oregon State's DJ Uiagalelei tossed a 5-yard touchdown pass to tight end Jack Velling with 1:12 left to pull the Beavers within 38-35. The Cougars (4-0, 1-0) recovered the ensuing onside kick after a mad scramble for the ball, and once the final snap was taken, fans rushed the field like they did after Washington State beat Wisconsin two weeks ago.
Ward, who entered third in the nation in passing yards and fourth in total offense, threw three of his four touchdown passes in the first half. He also had a 1-yard TD run to continue his sizzling start to the season.
"I'll say it again: We belong," said Washington State coach Jake Dickert, who hasn't shied away from campaigning for his program that along with Oregon State has been left behind by the rest of the Pac-12.
"This is one of those games that can really springboard your program to new places," Dickert said. "The team really believes in what we have."
The Cougars and Beavers have formed a strong bond off the field as they search for a new conference home — or try to salvage the Pac-12 by recruiting new schools to join.
But once their mascots came out the tunnel together before the game, the good feelings ended.
On the second play from scrimmage, Ward found Kyle Williams wide open for a 63-yard touchdown. Ward's TD run on the next possession gave Washington State a 14-0 lead.
Playing without leading receiver Lincoln Victor, who left in the first quarter with an ankle injury, Ward ended the first half with 14 straight completions and finished 19 of 20 for 293 yards before halftime.
Kelly, a transfer wideout from Fresno State, stepped up in Victor's absence. The rangy 6-foot-1 redshirt junior caught eight passes for 159 yards and hauled in two spectacular one-handed grabs, the latter of which went for a 19-yard touchdown in the third quarter.
Early in the second quarter, Kelly spun out of the grasp of three Beavers on his way to the end zone for a 44-yard TD.
Asked which of his highlight catches was his favorite, Kelly said, "It was probably the first one-handed catch because that's what started getting me going."
The Beavers' defense came in ranked 13th in the FBS, but it gave up 352 yards in the first half and couldn't slow down Washington State's attack. The Cougars finished with 528 total yards.
Uiagalelei completed 17 of 34 passes for 198 yards and was intercepted once. Deshaun Fenwick led Oregon State with 101 rushing yards and touchdown runs of 38, 9 and 4 yards. Damien Martinez added 81 yards on the ground but it wasn't enough to keep up with the Cougars.
"Just too little, too late," Oregon State coach Jonathan Smith said.
NATIONAL PERCEPTION
Dickert was upset with some of the comments made during ESPN's "College GameDay" on Saturday where the Washington State-Oregon State matchup was referenced as the "No One's Watching Bowl."
"I don't really understand that," Dickert said. "The facts say people watch the Cougs. And people watch the Cougs more than every team left over in the Big 12. It's well documented what ESPN has done to try to get our league where it's at."
THE TAKEAWAY
Oregon State: The Beavers were effective on the ground as usual, but their passing attack and defense now face questions as they enter a short week before another Top 25 showdown.
Washington State: The Cougars are 4-0 for the first time since 2017 and will enter a bye week with one of the hottest quarterbacks in the nation and impressive wins against Wisconsin and Oregon State on their resume.
UP NEXT
Oregon State: Hosts No. 11 Utah on Friday night.
Washington State: Has a week off before traveling to No. 22 UCLA on Oct. 7.
How To Watch
How can I watch Oregon State Beavers vs. Washington State Cougars?
TV Channel:

Beavers at Cougars 2021 College Football, week 4, is broadcasted on FOX.

Online streaming:

Sign up for Fubo.
Matchup Prediction
*According to ESPN's Basketball Power Index
Scoring Summary
| | | | |
| --- | --- | --- | --- |
| | TD | 1st Period 14:10 | Kyle Williams 63 Yd pass from Cameron Ward (Dean Janikowski Kick) |
| | TD | 1st Period 7:57 | Cameron Ward 1 Yd Run (Dean Janikowski Kick) |
| | TD | 1st Period 3:48 | Deshaun Fenwick 38 Yd Run (Atticus Sappington Kick) |
| | TD | 2nd Period 14:49 | Josh Kelly 44 Yd pass from Cameron Ward (Dean Janikowski Kick) |
| | TD | 2nd Period 5:35 | Deshaun Fenwick 9 Yd Run (Atticus Sappington Kick) |
| | TD | 2nd Period 0:10 | Josh Kelly 11 Yd pass from Cameron Ward (Dean Janikowski Kick) |
| | TD | 3rd Period 5:15 | Josh Kelly 19 Yd pass from Cameron Ward (Dean Janikowski Kick) |
| | TD | 4th Period 14:14 | DJ Uiagalelei 26 Yd Run (Atticus Sappington Kick) |
| | FG | 4th Period 9:12 | Dean Janikowski 44 Yd Field Goal |
| | TD | 4th Period 6:18 | Deshaun Fenwick 4 Yd Run (Atticus Sappington Kick) |
| | TD | 4th Period 1:12 | Jack Velling 5 Yd pass from DJ Uiagalelei (Atticus Sappington Kick) |
Statistics
| ORST | | WSU |
| --- | --- | --- |
| 25 | 1st Downs | 27 |
| 6-14 | 3rd down efficiency | 5-9 |
| 2-4 | 4th down efficiency | 1-2 |
| 440 | Total Yards | 528 |
| 198 | Passing | 422 |
| 17-34 | Comp-Att | 29-35 |
| 5.8 | Yards per pass | 12.1 |
| 242 | Rushing | 106 |
| 39 | Rushing Attempts | 30 |
| 6.2 | Yards per rush | 3.5 |
| 5-31 | Penalties | 7-60 |
| 1 | Turnovers | 2 |
| 0 | Fumbles lost | 2 |
| 1 | Interceptions thrown | 0 |
| 31:33 | Possession | 28:27 |
Game Information
Location:
Pullman, WA
Attendance:
33,111 ·
Capacity:
32,952
Full Standings
College Football News
Washington Supreme Court stays ruling on Pac-12 control
The Washington Supreme Court stayed a lower court's ruling from earlier this month that granted control of the Pac-12 to Oregon State and Washington State.
Minnesota QB Athan Kaliakmanis to enter transfer portal
Minnesota Golden Gophers QB Athan Kaliakmanis has decided to enter the transfer portal and will have two years of eligibility remaining.
NCAA football transfer window 2023: Latest news, updates, takeaways
We're tracking college football players who intend to transfer to new schools for the 2024 season, including several starting quarterbacks.
Clemson LB Jeremiah Trotter Jr. decides to enter NFL draft
Clemson linebacker Jeremiah Trotter Jr. has decided to forgo his senior season with the Tigers and enter the NFL draft.
Wake Forest QBs Mitch Griffis and Santino Marucci to enter transfer portal
Wake Forest starting quarterback Mitch Griffis and backup Santino Marucci both announced they are entering the transfer portal.