NFL News
Sources: Jets QB Wilson knee surgery a success
New York quarterback Zach Wilson underwent arthroscopic knee surgery Tuesday in Los Angeles, and a source told ESPN the procedure was deemed a success, but the Jets are still expecting Joe Flacco will start the regular-season opener, another source said.
Rodgers bemoans drops, mistakes by young WRs
Quarterback Aaron Rodgers expressed frustration with the Packers' young receivers, referencing "a lot of drops, a lot of bad decisions, running the wrong route."
Giants: QB Taylor may get some 1st-team reps
Giants coach Brian Daboll said Tuesday he may give Tyrod Taylor some first-team reps this summer but Daniel Jones remains the starting quarterback.
Patriots put veteran CB Butler on injured reserve
The Pats placed Malcolm Butler on injured reserve Tuesday, ending his season as he attempted a comeback with the franchise where he became a Super Bowl hero seven years ago. Butler sustained a hip injury, a source said.
Fins place TE Shaheen on IR after voided trade
The Dolphins placed tight end Adam Shaheen on injured reserve Tuesday as they cut down to the 85-player limit.
Panthers 1st-rounder Ekwonu named starting LT
Ikem Ekwonu opened the Carolina Panthers' joint practice against New England as the starter over 2021 third-round pick Brady Christensen, and coach Matt Rhule said, "That's where we are moving forward."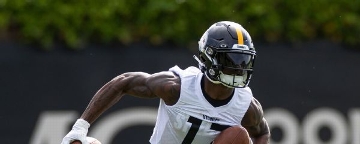 Steelers' WR Miller (shoulder) on IR; season over
Steelers wide receiver Anthony Miller has been put on season-ending injured reserve after suffering a shoulder injury in practice last week.
Titans LB Dupree pleads guilty, gets probation
Titans outside linebacker Bud Dupree pleaded guilty to a lesser assault charge in Nashville on Monday and was sentenced to six months of probation.
Fantasy: 12 potential breakout stars
Who will be this year's biggest breakouts? Mike Clay compares this year's top candidates to those who did it in 2021.