MLB News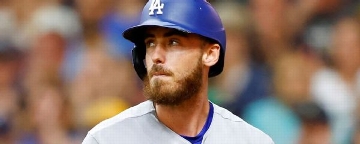 'Grinding' Bellinger benched by Dodgers' Roberts
Los Angeles outfielder Cody Bellinger, the 2019 NL MVP whose production has fallen off dramatically since, was benched by Dodgers manager Dave Roberts on Tuesday in Milwaukee.
Pirates' Castro banned 1 game for phone gaffe
Pirates infielder Rodolfo Castro was suspended one game and fined an undisclosed amount Tuesday for having a cellphone in his back pocket during an Aug. 9 game against the Diamondbacks.
Padres pull plug on Tatis bobblehead giveaway
The San Diego Padres have replaced a planned Fernando Tatis Jr. bobblehead night with a Juan Soto T-shirt giveaway after the superstar shortstop was banned 80 games Friday following a positive test for a performance-enhancing drug.
Sources: Mets to call up touted 3B prospect Baty
The New York Mets are calling up highly regarded infield prospect Brett Baty, sources told ESPN's Jeff Passan.
Mets' rotation hurt again as Walker (back) exits
New York Mets starter Taijuan Walker left Tuesday night's start with back spasms, just hours after the team announced Carlos Carrasco could miss up to a month with a strained left oblique.
La Russa says fan didn't influence key substitution
White Sox manager Tony La Russa got a kick out of the idea that a screaming spectator convinced him to insert a pinch-runner during a winning rally Monday night against Houston.
Red Sox get utilityman Hernandez back from IL
The Boston Red Sox are hoping infielder/outfielder Enrique Hernandez, activated from the injured list on Tuesday, will give the team a spark down the stretch.
A's release Piscotty, clear way for top prospect
Top prosect Shea Langeliers will gain some key experience with the Athletics after Oakland released veteran outfielder Stephen Piscotty on Tuesday.
Awards Watch: Race for AL MVP, more
A closer look at who's leading each of the awards races entering the homestretch of the season.