Soccer Headlines
France filing complaint to FIFA over disallowed Griezmann goal in Tunisia loss
France are filing a complaint to FIFA after a late equaliser by Antoine Griezmann was disallowed following a video review in a 1-0 loss to Tunisia.
The seven tendencies Lionel Messi displayed in Argentina's win over Poland: Some familiar, some less so
It's hard to focus on one player for 90 minutes, but Gab Marcotti watched exclusively Lionel Messi take on Poland. What did he learn about the GOAT?
Furious Laurens lets rip on 'disgraceful' France performance
Julien Laurens doesn't hold back as he rips into Didier Deschamps and the French players after their 1-0 loss to Tunisia in Qatar.
Mexico coach Gerardo 'Tata' Martino leaves job after World Cup elimination
Gerardo "Tata" Martino has left his role as Mexico coach after El Tri exited the World Cup at the group stage on Wednesday.
Argentina's Lionel Messi 'annoyed' by penalty miss despite winning World Cup group
Lionel Messi said he was "annoyed" by his penalty miss in Argentina's Group C win over Poland, but praised teammates for their positive reaction.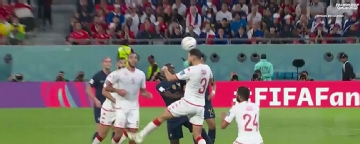 2022 World Cup VAR review: Why Antoine Griezmann's goal vs. Tunisia was disallowed for offside
Antoine Griezmann controversially had a goal disallowed for offside by the VAR in France vs. Tunisia, and this is why.