Hamburg SV
3rd in German 2. Bundesliga
Fabian Reese's shootout goal seals Hertha Berlin's win
Did Hamburg just score the worst own goal ever?
Hamburg goalkeeper Daniel Heuer Fernandes inexplicably hoofs the ball into his own net from a yard out against St. Pauli.
Millot double secure Stuttgart another season in Bundesliga
Two goals from the 20-year-old Enzo Millot were enough to secure VfB Stuttgart a new season in the Bundesliga, as they defeated Hamburg SV 3-1 in the second leg of the relegation playoff on Monday to complete a 6-1 aggregate victory.
Hamburg keeper's awful mistake ends promotion hopes
Hamburg keeper Daniel Heuer Fernandes misplays the ball, which ends up in the back of the net to all but wrap up Stuttgart's win to remain in the Bundesliga.
Stuttgart beat Hamburg 3-0 to grab advantage in relegation playoff
VfB Stuttgart boosted their chances of staying in the Bundesliga as they secured a 3-0 home victory against Hamburg SV in the first leg of the relegation playoff on Thursday.
Leipzig thrash Hamburg in DFB-Pokal
Holders RB Leipzig eases past Hamburg SV 4-0 to move into the third round of the German Cup.
Hertha Berlin win playoff to deny Hamburg promotion to Bundesliga
Hertha Berlin retained their top-flight status, beating second-tier Hamburg 2-0 in the second leg of their Bundesliga promotion-relegation playoff.
Hamburg earn 1-0 win at Hertha in Bundesliga playoff first leg
Hamburg SV edged closer to a return to the Bundesliga following a four-year absence after beating hosts Hertha Berlin 1-0 in their promotion/relegat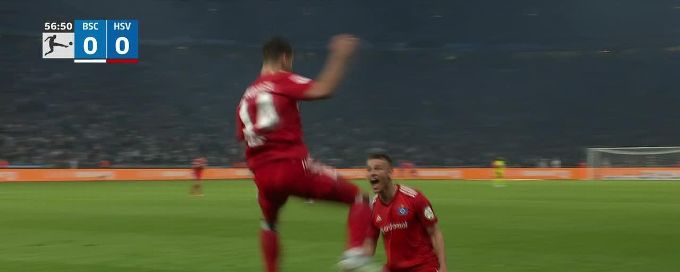 A bend cross-shot by Ludovit Reis opens up scoring
Ludovit Reis puts Hamburg SV ahead 1-0 in the first leg of the Bundesliga Relegation play-offs.
Team Leaders
Top Scorers
| # | Player | Goals | M | A |
| --- | --- | --- | --- | --- |
| 9 | Robert Glatzel | 11 | 16 | 3 |
| 8 | László Bénes.. | 8 | 15 | 6 |
| 18 | Bakery Jatta | 3 | 15 | 2 |
Top Assists
| # | Player | Assists | M | G |
| --- | --- | --- | --- | --- |
| 8 | László Bénes.. | 6 | 15 | 8 |
| 27 | Jean-Luc Dompé.. | 4 | 14 | 1 |
| 9 | Robert Glatzel | 3 | 16 | 11 |