Mali international Sambou Yatabare imprisoned for attacking police officer
Mali international Sambou Yatabare has been imprisoned after assaulting a police officer outside Paris.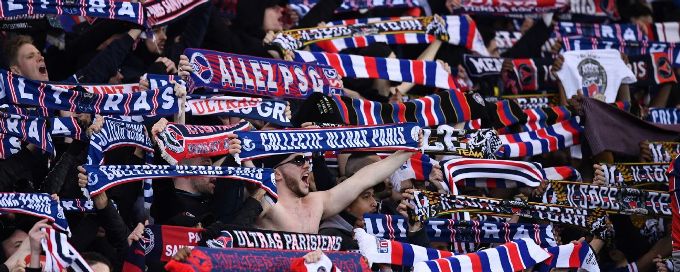 French government approves safe-standing trial beginning next season
France's Sports Minister has given the go-ahead for safe standing areas to be tested in French football next season.
Paris Saint-Germain's Dani Alves ends Sochaux Coupe de France tie in goal
PSG had a 4-1 lead when keeper Kevin Trapp was dismissed for a foul on Thomas Robinet outside the area.
Di Maria hat trick sends PSG into Coupe de France quarters
Paris Saint-Germain are into the quarterfinals of the Coupe de France after beating Sochaux 4-1 on Tuesday night at the Stade Bonal.
Morocco's Zakarya Bergdich joins Sochaux
The left-sider has signed a two-year deal with the Ligue 2 side.
Tunisia's Mohamed Larbi leaves Sochaux as contract is cancelled
The North African midfielder is now a free agent after ending his brief spell with FCSM.
RB Leipzig sign Sochaux-Montbeliard defender Ibrahima Konate
Konate, a France youth international, has signed a deal until 2022, Leipzig announced on their official website.
Monaco beat Sochaux on penalties in Coupe de la Ligue quarterfinals
Monaco needed a late equaliser and some good fortune in a shootout to beat Sochaux in the Coupe de la Ligue quarterfinals, while Nancy saw off Nantes.
Sochaux stun Marseille, book Coupe de la Ligue quarterfinal spot
Sochaux stunned Marseille to reach the Coupe de la Ligue quarterfinals with a 4-3 penalty shootout win following a 1-1 draw.
Zlatan Ibrahimovic scores brace in farewell as PSG win Coupe de France
Coupe de France
Team Leaders
Top Scorers
| # | Player | Goals | M | A |
| --- | --- | --- | --- | --- |
| 16 | Maxence Prevot | 0 | 0 | 0 |
| | Charly Dosso | 0 | 0 | 0 |
| | Nolan Galves | 0 | 0 | 0 |
Top Assists
| # | Player | Assists | M | G |
| --- | --- | --- | --- | --- |
| 16 | Maxence Prevot | 0 | 0 | 0 |
| | Charly Dosso | 0 | 0 | 0 |
| | Nolan Galves | 0 | 0 | 0 |